Meet Us At Intellus Worldwide 2023 Summit
Borderless Access Health is a unified end-to-end primary market research, data analytics and consulting service provider for global healthcare ecosystem. It provides world-class synergy of primary market research, business intelligence reporting and analytics services to global pharma, biotech, medical devices, payer and provider segment delivering real-time business insights for healthcare stakeholders in data driven decision making.
Our differentiation is our proprietary healthcare digital panels which has designed access of multi-dimensional reach for speciality physicians, healthcare professional (HCP), allied health professionals (AHPs), pharmacist, medical technologist, patients, care givers and insurance experts. This healthcare panel network spans across 80+ markets with 1.2 million+ patients community and 700,000+ physician networks globally.
We bring in extensive domain experience across 150+ therapy areas (including rare diseases) executing multi-country projects/engagments for 60+ clients for developed (North America, 5 EU, Japan) developing (LATAM, APAC, OCEANIA, Middle East) and challenging (Africa) markets.
Our unique business proposition helps clients to maximise return-on-insights and optimize costs for Real-time Intelligence (Primary market research), Real-world solutions (secondary research & analytics), Digitized business intelligence & reporting along with Market access and Health Economics and outcomes Research (HEOR) services.
Awarded with 'ESOMAR Research Effectiveness Award – GOLD, 2021'; Best Partner Paper Award at PAMRO 2019; 'Red Herring 100 Global, 2018'; 'Red Herring 100 Asia, 2017' and 'Research Company of the Year' at MRMW awards 2017 in Chicago; Borderless Access is a certified 'Great Place to Work' and is affiliated with leading market research governing bodies such as ESOMAR, MRSI, Insights Association, Intellus, EphMRA, BHBIA, PAMRO and SAMRA.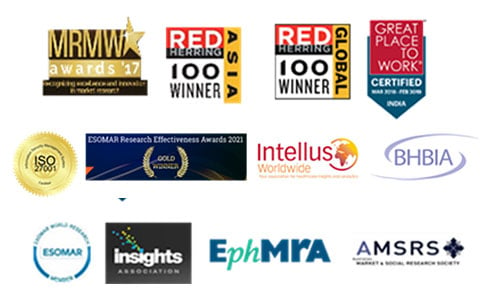 Borderless Access values data security, privacy, and confidentiality and is an ISO 27001:2013 certified and GDPR & CCPA compliant company.
Learn more about our services and credentials on our website – www.borderlessaccess.com/ba-health
Speak to our experts
Luke Francis

VP Healthcare US
Borderless Access


Pramod Vaidya

Director Global Healthcare
Borderless Access