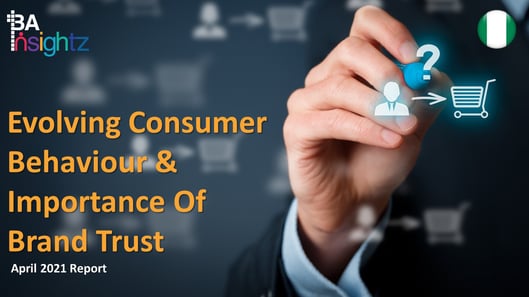 Evolving Consumer Behaviour & Brand Trust
This BA Insightz report, titled "Evolving Consumer Behaviour & Importance of Brand Trust", is focussed on Nigerian consumers and talks about their behaviour and their expectations from brands a full year since the start of the pandemic.
The report details three key aspects:
Shopping behaviour: The impact that COVID-19 has had on shopping behaviour
Consumer concerns: Key concerns of consumers surrounding brand trust
Expectations from brands: How brands can best support consumers through this crisis
The report has been prepared with the aim to help brands measure the evolving consumer behaviour and understand the importance of brand trust from the consumer's lens.
The insights in this report were gathered from online qualitative and quantitative analysis of Nigerian consumers.
The study participants included consumers from all regions of Nigeria but predominantly from Lagos, with a total sample size of 600.
The study participants mostly reside in townhouses/penthouses with an average family size of 5 members per household.
Almost 2/3rd of the consumers have an annual household income of less than N2000,000.
The sample includes men and women, aged 18 years and over.
---
Fill the download request form to grab a copy of the report, now.