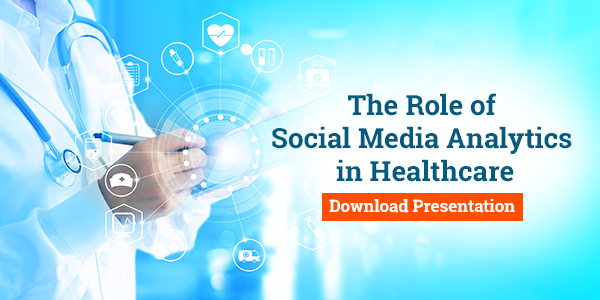 Did you miss our presentation at PMRC-US 2021 or would like to download a copy of our presentation?
The Role of Social Media Analytics in Healthcare
Our paper showcased the practical approach on how social media analytics can be used to analyze patient/caregivers' reactions, perceptions, and sentiments for prescribed treatment. The objective of social media analytics is to assist healthcare stakeholders to gain insights on patient perception and experience with,
Brand: usage, side effects, dosage, efficacy, compliance, ease-of-use

Treatment: drivers for positive sentiments and negative sentiment
We used a real-time case study to highlight patients' perceptions and insights generated from our proprietary social media analytics framework for a global pharmaceutical and health care company that wanted to evaluate patient preference and response for anti-diabetes drugs in the USA. The focus was to analyze social media posts from Type-2 Diabetes patients (T2DM) to gather insights on medication preference, side effects, dosage, efficacy, compliance, switch-in, switch-out, and share-of-voice for top diabetes drugs.

Request a copy of our presentation and you can send us a note if you would like to discuss with our experts the various possibilities our social media analytics solution has to offer for your business requirements and how BA Health can help you achieve them.
Speak to our experts
Mahesh Lingaiah

Jason Tiffer

AVP, Healthcare
Borderless Access

SVP – Sales, Americas
Borderless Access
BA Health provides a world-class synergy of primary market research, business intelligence, and reporting and analytics services to global healthcare, pharma and biotech, life sciences, and medical devices companies.
Our real-time healthcare insights capabilities include:
---
Need tailored solutions for your healthcare research challenges? We can help!